My Courageous story
Cecile Tumaine
 "Hope is the beginning of a future"
My name is Cecile Tumaine Atimango and I am from Democratic Republic of Congo. And I'm 21, I was born during a civil war with many killings going on. My parents were separated during the war, and I have no memory of my father.

 When I was a baby, my mother was running away from the rebels, carrying me in her arms, when she fell in an 8' feet deep hole and my spinal cord was injured.

 My new home was Uganda where my mother, grandmother and brothers eventually came to a large refugee camp Kyaka outside of Kampala. The refugee camp was not a good life. It was overcrowded, we had nothing to do, my mother had to work all the time and we were scared someone would kill us.

 When I was six, I started getting sick, weak and had pain. By seven, I could no longer walk. I became very sad, I cried a lot, and couldn't imagine any future. My grandmother would tell me 'you will not see what's behind you if your back is straight".

You can only see what's in front of you.' She was the best grandmother. My life was hard, and evil and darkness had control of me, but she helped me to be strong and brave. I had to crawl for four years. 
When I was 11, someone from the United Nations (UN) gave me a wheelchair and I could move easier by myself. It felt like a miracle, but still my life was very difficult in the refugee camp. I didn't go to school there. There was a school UN wanted to take me to, but my mom refused. I was so sad that I didn't have a choice of life anymore, but that didn't stop me from going forward. Then the miracle of God happened. In 2015 my mother, brother and I were chosen to come to America. I was excited, scared, and sad. I would have a new life, but there was too much I didn't know and I would never see my friends, two of my brothers, or my grandmother again.

In 2015 we arrived in America and the Agency of New Americans helped us a lot. They were so kind and taught us so much about living here in America. 
I had many medical appointments and received a new wheelchair.
In 2016, I started school at Borah High School. I was so scared and so excited. I'd never been to school, and it was so big, and I didn't know English, but I met some other students that spoke Swahili. That really helped me. I learned the alphabet and how to write and spell my name. I loved school and learned very fast. 
In 2019, I graduated, and it was a dream I could not imagine when I lived in the camp. After graduation, I got pregnant and had a beautiful little girl, my angel, Victoria. I love being a mom and I love my life in America.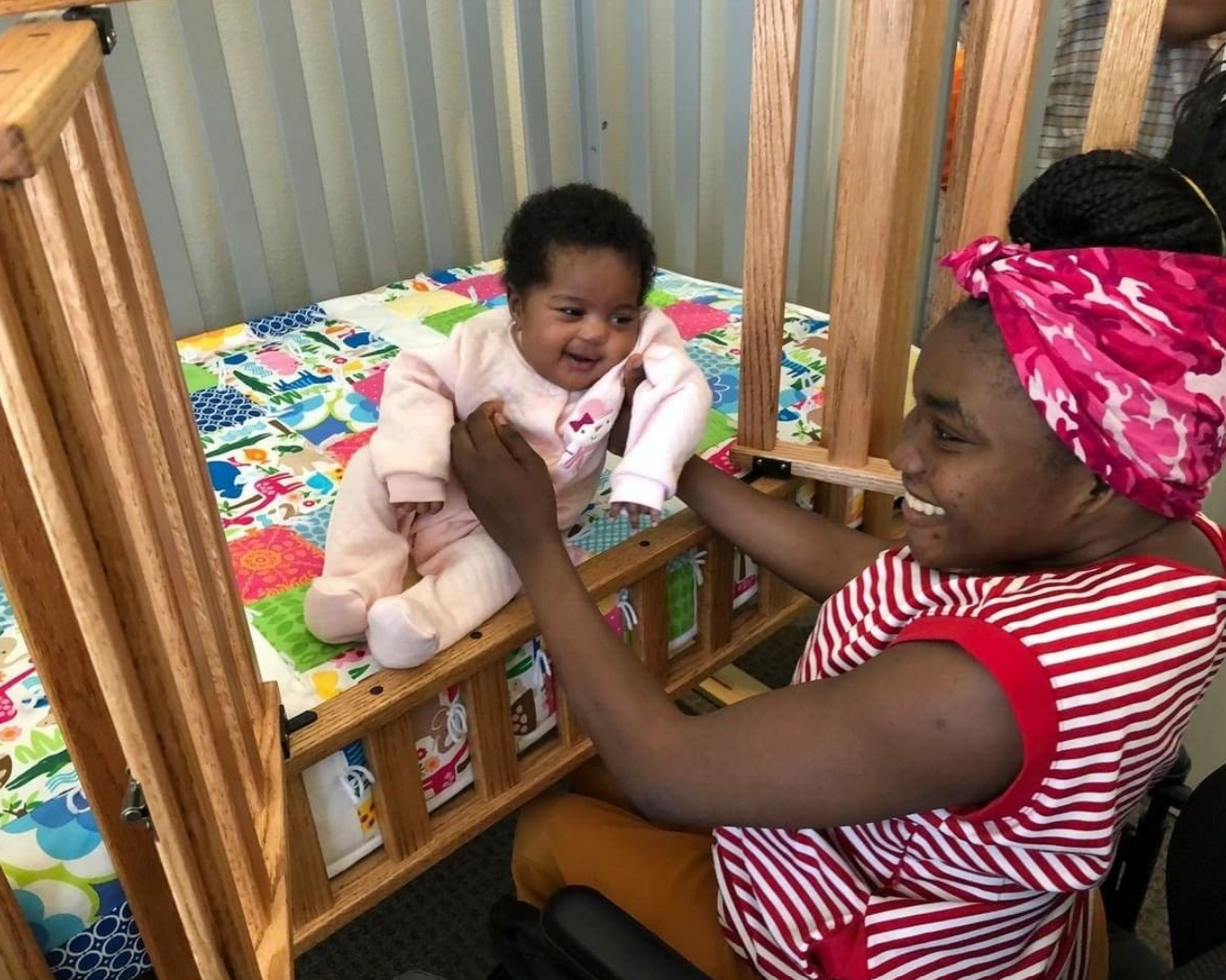 I worked so hard to have a job and I also worked so hard to learn how to drive a car when no one had hope for me. I never gave up on what I believed in. 
At first I didn't have a job or anything, but I put my faith first and my hope in God's hands and that is how I was able to buy my first car. I started raising money and then there were people who saw me and helped me complete my goal that I needed to reach. 
God has been so good to me. Tumaine is my middle name, which means Hope, that's what I wish for everyone who might be going through the same situations like mine, a Future and a Hope. I know life can be hard but don't let the negative people around you ruin it for you, no matter who they are. If you know what you need, then go for it. If I can do it to achieve what I achieved, then I believe in you. 
You can do it too.
Cecile Tumaine